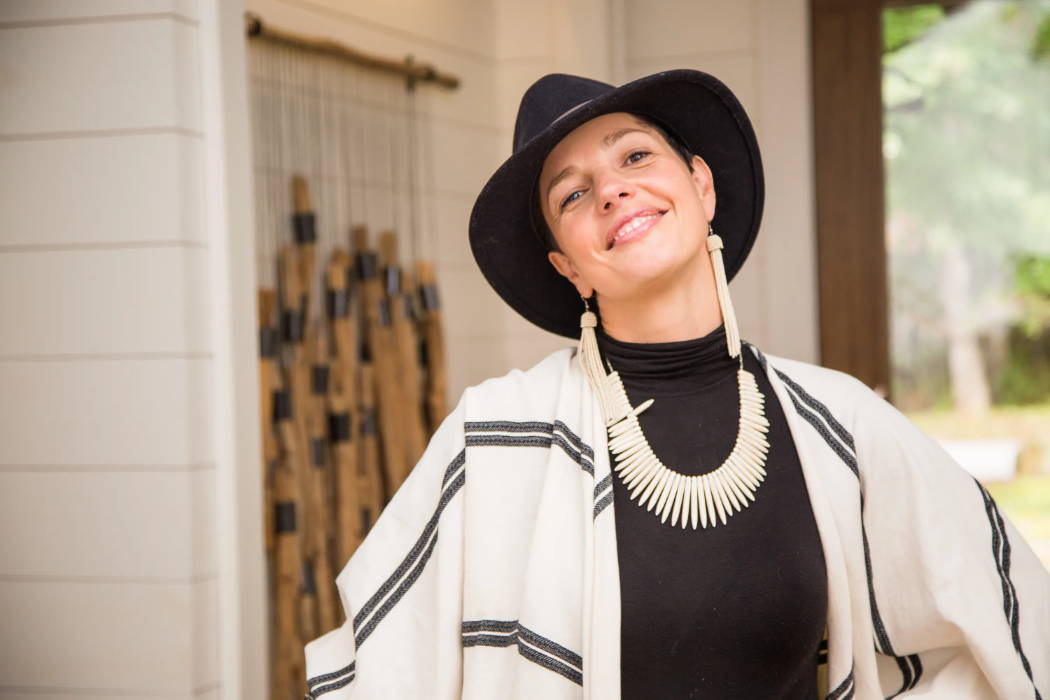 As BOBO's first guest resident, Kristin Genet has partnered with our team at BOBO to display her newest collection in our flagship retail store in The Works. For years, Kristen has designed installations for both private and special events all over. As a German native and ardent traveler, Kristin has transferred some of her most influential experiences into her art. As a current resident in the community of Serenbe, Georgia, Kristen continues to allow for her natural environment and sense of community to influence her work even still.
At BOBO, we are honored to have Kristen's work complement our walls and be displayed among our own pieces. If you adore the culture and post-modern design of BOBO, we guarantee you will fall in love with the work of Kristen Genet.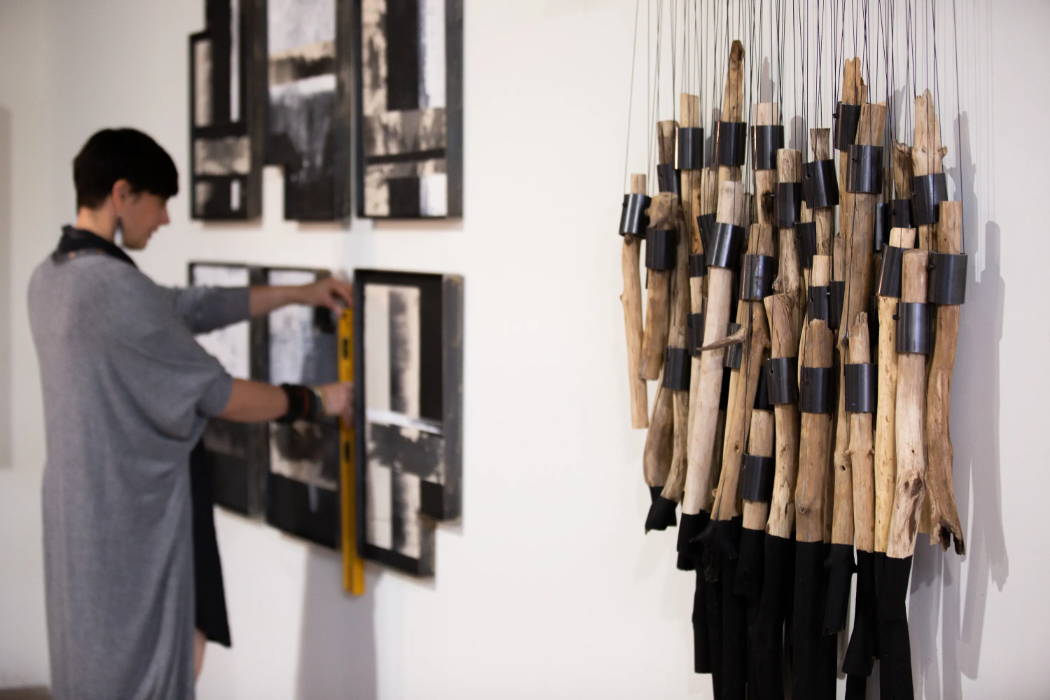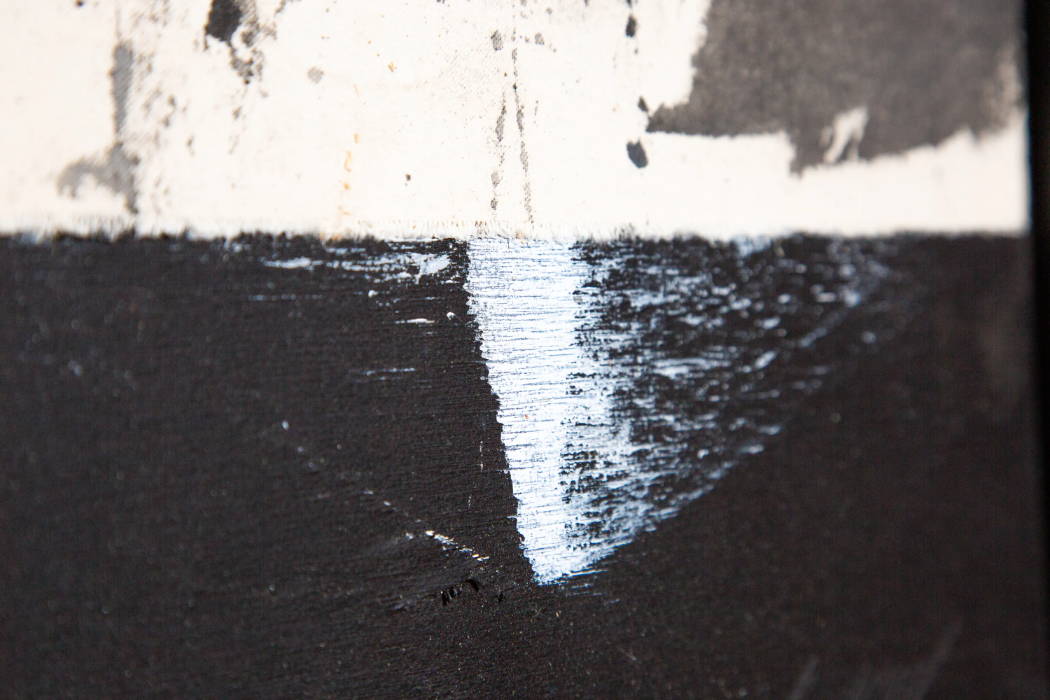 ---
"

I love to use materials that surround me and may be overlooked by many. I love to give such simple things as sticks a whole new life.

"
---
TABLE TALK WITH KRISTIN GENET
1. Tell us about your journey. Have you always considered yourself an artist?
Ha, no...not at all. 'Artist' always seemed so big. It was not until everybody else called me an artist that I thought "I guess, I am."
Looking back, my artistic journey began at a young age, around 6, 7or 8 years old when I built forts in the woods with my friends. We got very creative with all the materials around us and spent hours, days and weeks making them. I remember that I always enjoyed the process more than the finished product. I wish I could travel back in time and take pictures of all our creations.
---
2. Obviously, we are so happy to have you but we want to know, what made you say "yes" to displaying your art in the new BOBO Retail Store?
Aww, I'm so thrilled to work with BOBO. The first time I stumbled upon you guys was when a friend took me to the warehouse. It literally felt like running into an old friend back home. So many antiques, sourced from places all around Europe. It was my version of design heaven.
When I had the opportunity to curate and run a Pop Up shop in Serenbe this last summer I knew I wanted to work with BOBO. Luckily, Mark liked the idea as well. It was a great success and a lot of people commented on how well our styles work together.
I'm honored to be represented at the new BOBO Retail Store. It's been such a wonderful experience.
---
3. What is something positive that has happened to you in 2020? What are some of the struggles you experienced in 2020 as an Entrepreneur?
Despite all the devastating things that happened in 2020, this year opened up a space where I could truly explore who I am as an artist. I found myself in a silent space with no projects. I found that I had nothing to pull me one way or the other. The silence opened up an opportunity for me to create all the things that had been living in my head, untouched for quite some time.
For me, 2020 was an enormous year of growth as an artist. It was a Find-The-Good-In-The-Bad moment.
---
4. Are there any other creatives in your family? If so, did they have an influence on your career and work?
Well, yes there is but in a different way. My family and I grew up in East Germany, in a socialist country. We didn't have anything. You couldn't buy anything, even if you had the money, because there wasn't much.
My dad got very creative to work around the system. He was a teacher but started a side business as a carpenter to make some extra money. To get tools, he picked strawberries, which he knew where rare in the cities, to trade. Uhm, that was a lot of strawberries. Little by little he created a woodworking shop and taught himself how to build wooden ceilings. That was his niche specialty and apparently it was super hip in the 80ties.
Anyways, my life growing up was always surrounded by Make It Work situations. Always. If you wanted something you had to build it yourself. My dad taught me that there is always a way to figure it out. He loved the challenge and instilled those lessons in me too.
---
5. From what we know, you've lived in some really incredible places. Have you ever gathered inspiration from where you've lived, places you've traveled, different cultures you've experienced? If so, how has it affected you and your work?
Yeah, I did. Looking back the most incredible place I lived was in East Germany. The country that doesn't exist anymore in that form. Obviously, I'm very glad that both sides peacefully reunited but growing up in East Germany has taught me so much and was most influential in my creative journey. It is deeply engrained in my childhood.
When I travel, I like to engage with the people and their culture in the most authentic way. Riding public buses in Morocco, staying in shared homes in Cuba or eating at a local street café in Hongkong, where I can't even figure out the menu, is how I like to do it. I take so much inspiration from all those moments and they may appear in project years later.
---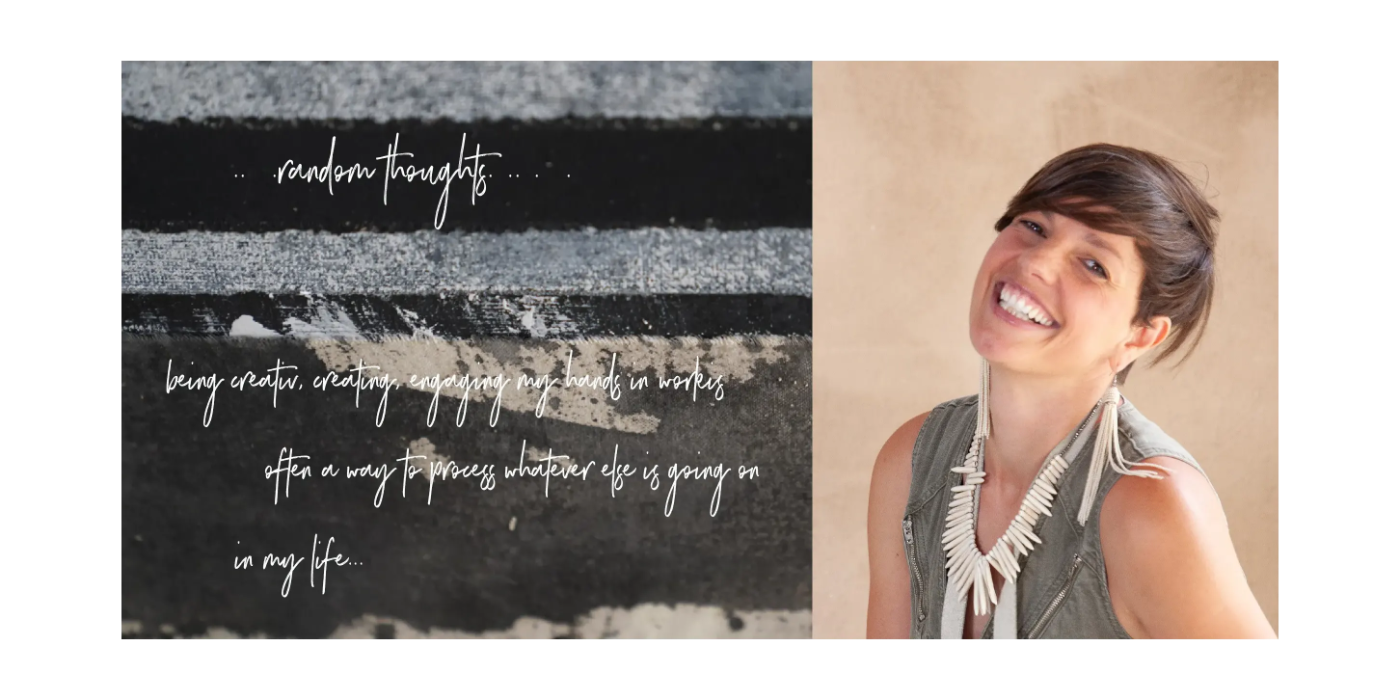 6. What are five things that you cannot live without? Professionally and/or personally. How has this influenced your work?
I like this question. Hmm, approaching this from an inspirational point of you and besides my kids, I'd say...
Walks/runs in the woods.....that gets me out of my own head and grounds me

A bathtub....much creative thinking happens in a bathtub

Meaningful conversations with friends. That gives me new perspective and encourages me to think big

Fresh pressed ginger lemon juice to kickstart the day

A lot of laughter to enjoy the work and make it through hard times
---
7. What truly fuels your inspiration? How would you describe your design ethos?
I think of my inspirations as a huge wall of random drawers and everything that influenced, touched, inspired, impressed me is being put somewhere in those drawers.
It could be an interesting conversation, art show, experience, movie scene, found object etc. Things that somehow left an impression.
I think my gift as an artist is to put these random things together to create something new, like a bacchanalian dinner party in the woods or an oversized stick hanging art piece. Whatever it is it is usually put together by different inspiring moments.
---
8. What are some of the biggest challenges that you face as a self-made entrepreneur/artist/mother/etc...?
My biggest challenge by far is to stay focused on one idea and don't get side tracked by so many others. I tend to have many projects at the same time which gets me into trouble at times.
Being a mom to three kids actually helps me in a weird way to stay grounded, organized and focused as an artist. It's all a balancing act and the key is to find joy in all those little moments and lessons in the failures.
---
9. Do you work on multiple projects at once? What kinds of projects are you currently interested in and what do you have planned for future projects?
Yes, I find myself in the middle of multiple projects, even if I try not to. There is just too much to do, explore and create.
Currently I am working on another Pop Up Shop that will be open in March and April in Seaside, Florida. I will present new art pieces and a curated line of home décor goods. That has been a lot of fun putting together and I'm thrilled to activate my production design skills into the store's design. I really like the format of a Pop Up Shop and I'm thinking about creating a travel version, popping up in different locations all over the country. We'll see.
I'm also working on opening a pottery studio in Palmetto, Georgia this fall. You can follow our journey on IG @potter.on.main We are transforming an old brick building into a community-friendly space where you can come take pottery classes or work on your own collection.
Besides that, I'm eager to create more art. This is my happy place of processing the world around me.
---
10. What advice do you have for someone looking into starting their creative journey?
It can be so intimidating these days with such an overflow of imagination on social media. It's head spinning. I would say, surround yourself with people that challenge and support you. Grow and find your very personal super power (EVERYONE has one) and stick with it.
---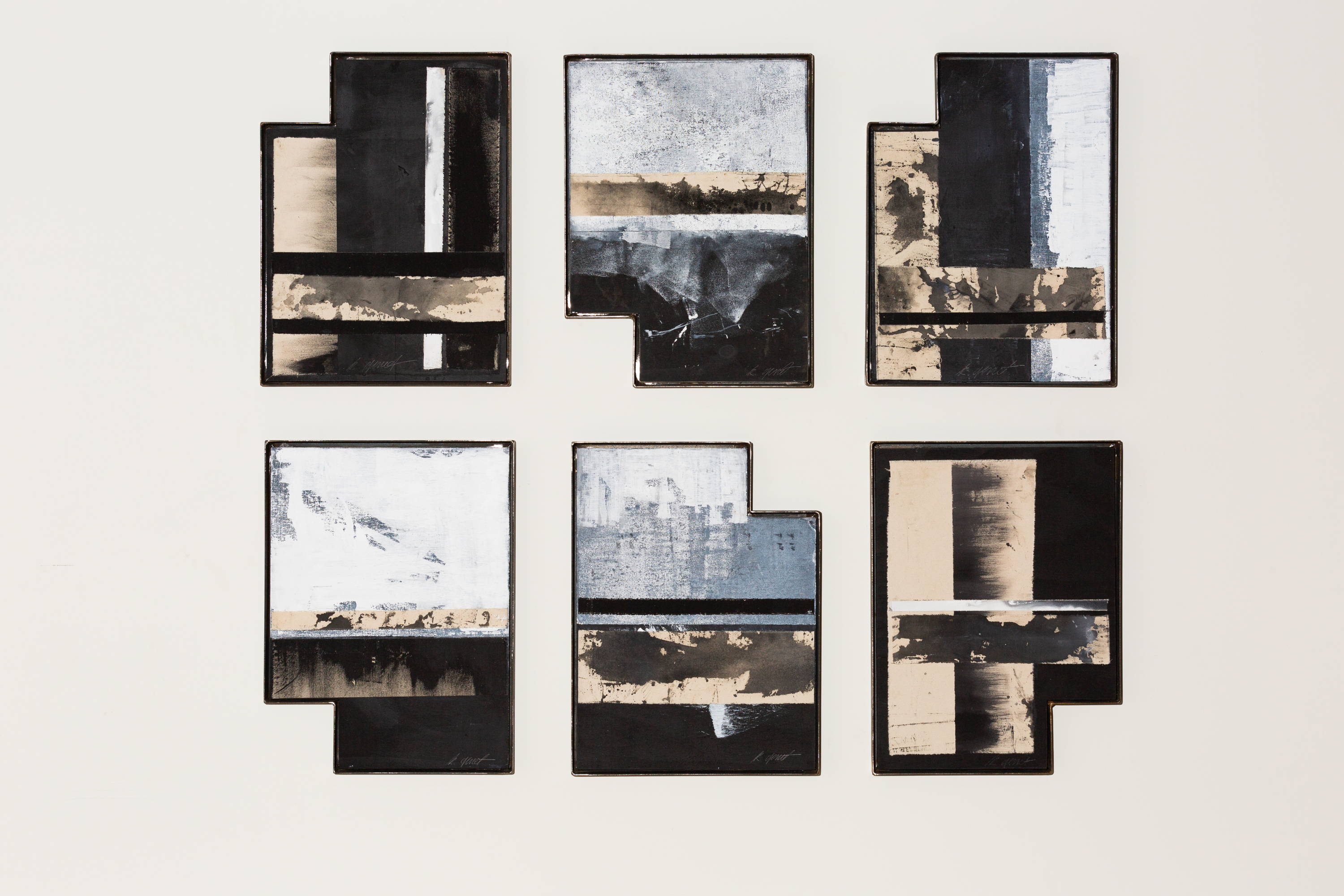 ---
---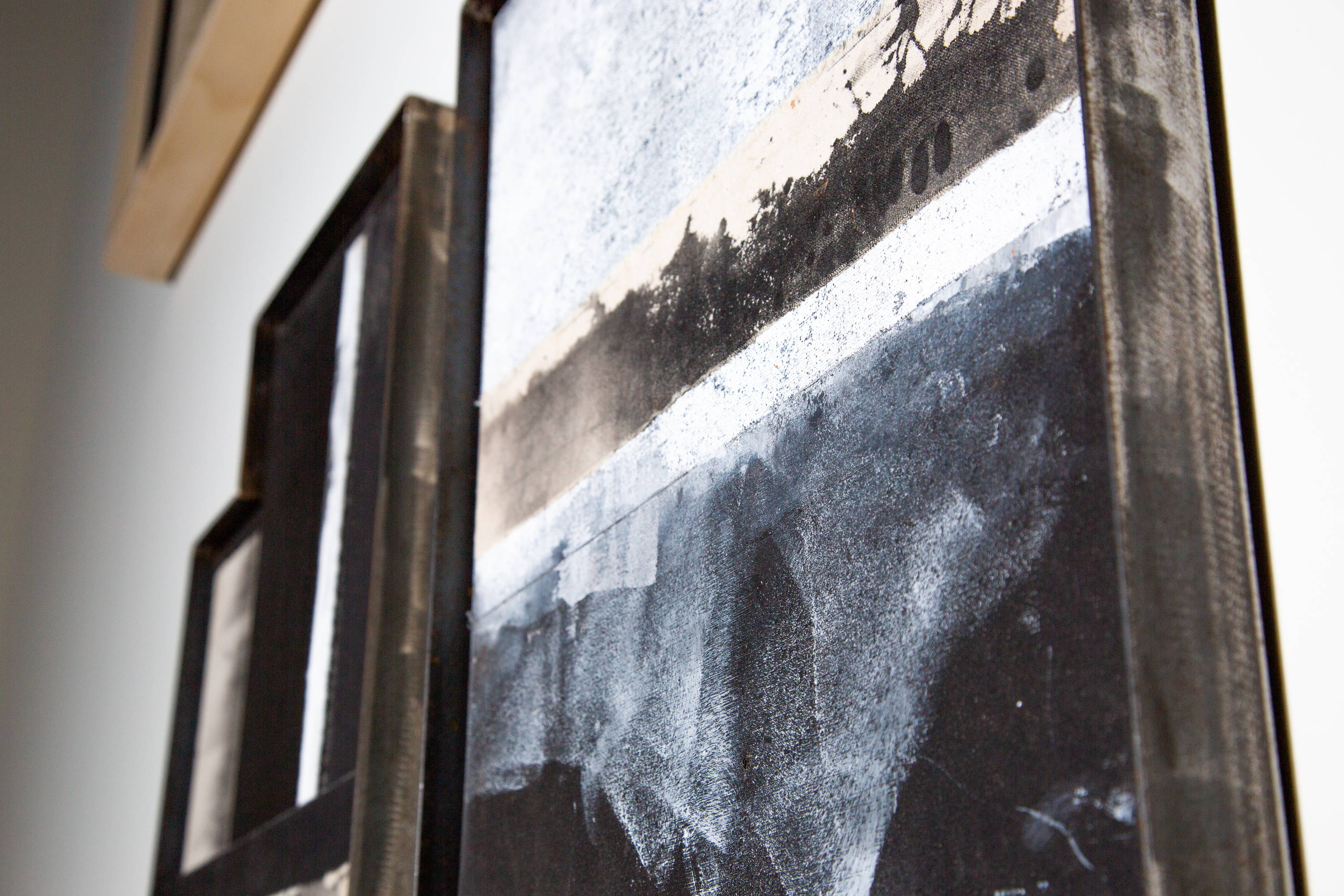 ---